Afternoon News Brief
Written by Doug Thompson on September 13, 2022
30-year-old Cassandra Elmore of Batavia, who twice failed to appear in City Court to answer charges related to her dog overdosing on drugs, has been arrested. Her most recent failure to appear was last Thursday; the judge issued a warrant for her arrest. Elmore is charged with three counts of injuring/torturing an animal as well as two counts of criminal possession of a weapon, two counts of obstruction of governmental administration and two counts of misdemeanor criminal possession of a controlled substance. Some of those charges are related to a traffic stop on August 30 in the city. Elmore was committed to jail over the weekend.
The GLOW region is no longer in a drought, this according to the latest U.S. Drought Monitor data. The organization's latest map shows the entire region classified as "abnormally dry." That's an improvement over the previous two months in which portions of Genesee and Livingston counties were shown to be in a moderate drought. The abnormally dry areas include all of Western New York except for Chautauqua County. Additionally, outdoor fire risk for all of New York State is now rated as low, according to the state Department of Environmental Conservation. Color key to the map: Yellow=Abnormally Dry; Light Orange=Moderate Drought; Dark Orange=Severe Drought
It's unanimous. Last night, the Batavia City Council voted to move forward with the farm animals ban but after much discussion, removed feral and community cats from the list of prohibited animals. Next, the pared down law moves to the September 26 business meeting for vote.
New York Governor Kathy Hochul will allow her COVID-19 emergency powers to expire. As of today, there's no longer an executive order in effect giving the governor's office the authority to purchase pandemic-related goods and services without a competitive bidding process. The governor says she'll reinstate emergency orders if there's a sudden increase in coronavirus cases.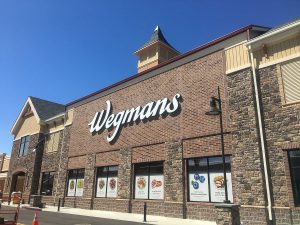 A popular feature that was put in place by Wegmans at the start of the COVID-19 pandemic is being discontinued. The SCAN App allowed customers to scan their own groceries then pay for them when they were done shopping. But, the supermarket chain says that due to the losses the company experienced after the app launched, it will be turned off until improvements can be made. Wegmans says it'll keep introducing new digital solutions to help streamline the shopping experience for the future.
The New York State Division of Consumer Protection is offering some tips to grandparents about how to avoid being scammed. The agency says older residents are often targeted by scammers who attempt to take advantage of the close relationship grandparents have with their grandchildren. In many cases, the scammer pretends to be a relative and says there's an emergency in order to get money sent to them. They also often insist that no one be told about the financial transaction. Officials say people should try to verify if what the scammer is saying is true or not. Folks also should not reveal their address or other personal information over the phone to anyone they don't know.
---