Afternoon News Brief
Written by Doug Thompson on September 14, 2022
33-year-old Adam Kreutz of Batavia is charged with assault, burglary and coercion. He's accused of burglarizing an apartment on Ellicott Street and assaulting the person inside that apartment. Kreutz was arraigned in City Court and ordered held in the Genesee County Jail without bail. ALSO:  33-year-old David Fielding of Stafford is charged with falsifying business records and grand larceny. He is accused of stealing tools from his employer on Godfreys Pond Road in Stafford and pawning them for money. Fielding was arrested and transported to the Genesee County Jail and released on appearance tickets.
Residents in the GLOW region have forgotten about or lost nearly $19 million, according to state Comptroller's Office. The unclaimed money often comes from old bank accounts, utility deposits, checks that were never cashed, insurance claims, stocks and other sources that have been dormant for a number of years. In Genesee County, there are over 15000 accounts with a total value of over $6,000,000 (5,597 accounts valued at $6,267,590). The state Comptroller's Office invites you to see if you have any unclaimed funds: Go to https://www.osc.state.ny.us. Or call 1-800-221-9311.
A former Warsaw man who has served four state prison terms and is on parole after serving time for the brutal beating of his wife, who he married in a public ceremony on radio, is back in jail after another arrest. 51-year-old Eric Cushman of Bliss, was arrested Saturday and charged with second-degree burglary, assault with intent to cause serious injury, criminal mischief and criminal contempt of court. He was committed to Wyoming County Jail without bail and will likely remain there on a parole detainer.
Former New York Governor Andrew Cuomo has filed an ethics complaint against State Attorney General Letitia James, in which he discussed concerns about the sexual harassment investigation that led to his resignation last year. Cuomo questioned the accuracy and credibility of the investigation's findings, alleging that James used the probe to tarnish him and further her own political interests. Cuomo believes James' agenda included her own political motivations and self-interests. At this time, there has been no response from the Attorney General's office.
The New York State Thruway Authority reports there are over 64 million dollars in unpaid tolls from between 2018 and 2021. The Authority says drivers who owe toll money will receive 4 notices and then their registration will be suspended. Enforcement has been paused since 2018 due to confusion over how to pay because of the tolls going cashless and then the COVID pandemic set collection back even further. Over the past few years the Thruway Authority has taken some steps to clear up some of the confusion such as, putting up signs, simplifying billing statements, offering an amnesty program to help customers settle their past due accounts and increased staffing at call centers.
Public health departments in the four-county GLOW region want you to know that clinics start this week for the new COVID booster vaccine. The eligibility requirements for the Moderna booster include being 18 years of age or older, and at least two months have passed since completing the primary vaccine series or booster. Requirements are similar for the Pfizer booster, but also include children 5-11 years of age as long as it has been at least five months since they completed their primary vaccine. The Genesee County Health Department encourages residents to talk with their primary care provider and/or their pharmacist to discuss questions they have related to the COVID vaccine and boosters.
The Genesee County Health Department is hosting a free drive-thru anti-rabies immunization clinic tomorrow from 4:00 p.m. to 7:00 p.m. at the Genesee County Fairgrounds (5056 East Main Street, Batavia). Vaccinations are free for dogs, cats, and ferrets, but voluntary donations are accepted. Animals must be at least 3 months old. Each animal must be leashed or crated and accompanied by an adult who can control the animal. Limit 4 pets per car maximum. For more information on Health Department services, visit GOHealthNY.org or call 585-344-2580 ext. 5555.
The White House has announced the details of Vice President Kamala Harris' visit to Western New York today. She's scheduled to arrive in Buffalo before taking a tour of the Grow Energy Center at the University of Buffalo in Amherst. Afterwards, Vice President Harris will be giving a speech about the benefits of the Inflation Reduction Act at the University at Buffalo Center for the Arts. The White House believes the legislation will help lower the high costs families are dealing with, grow the economy and also create jobs.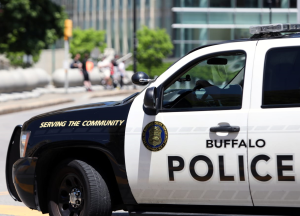 A 16-year-old girl is in custody in connection with a stabbing at the Buffalo School of Culinary Arts and Hospitality Management. According to police, she attacked a 17-year-old girl inside of a classroom yesterday at the school which is located on West Huron Street. The victim was taken to Oishei Children's Hospital where she was last listed in serious condition. Buffalo Public Schools says it takes any offenses that occur on school grounds seriously and that the Code of Conduct will be followed when coming up with disciplinary measures.
Students in the Orchard Park Central School District will be spending less time in their classrooms this coming Monday. District officials have announced a "Buffalo Bills Half-Day" ahead of the NFL team's home opener against the Tennessee Titans. A lot of traffic is expected around Windom Elementary School and Orchard Park Middle School which both are near Highmark Stadium and an early dismissal will allow students to safely return home. Monday's game between the Bills and Titans is set for 7:15pm.
The application deadline for people who want to receive money from the Buffalo 5/14 survivors fund is coming up later today. The fund was put together after a mass shooting at a Tops store in Buffalo that left 10 people dead and three others hurt. In order to get benefits, individuals must be a legal heir of the victims, have been hit by a gunshot or suffered some sort of physical injury, have been present at the time of the shooting and are dealing with mental trauma or been an associate of the Jefferson Avenue store who was not present on the day of the shooting. The deadline to submit an application is 6:00pm.
---