Afternoon News Brief
Written by Doug Thompson on November 11, 2022
A Batavia man in jail for assaulting a woman twice in a four-hour period last month now faces additional charges. 43-year-old John Sumlin III violated an order of protection. He is in Genesee County Jail and attempted to call the same woman five times. Telephone calls from jail are monitored. Initial felony charges against Sumlin include burglary, contempt of court and criminal mischief after breaking into the woman's house, holding a knife to her neck and threatening to kill her and her children. This, within an hour of her having an order of protection put in place against him. The new charges include five counts of felony criminal contempt of court.
The County Planning Board has recommended approval for an expanded Tractor Supply Company retail store at 8727 Lewiston Road; two stipulations came along with it, including state Department of Transportation approval for a proposed access road/intersection and that the company complete a storm water pollution prevention plan. Project representatives are scheduled to meet with the Town Planning Board next Tuesday night and later in the month with the Town Zoning Board of Appeals. The Tractor Supply on East Main Street would move to the new site.
A former Greece police recruit and Spencerport school security guard has been arrested for child porn in Greece. 27-year-old Jason Lane allegedly had files containing an image of a partially nude preschool-age child at a local childcare facility, along with sexually explicit images of two minor victims that appeared to be taken by Lane. A search of Lane's Yahoo account recovered non-explicit images of Spencerport High School students that appear to have been taken secretly by Lane while he worked there, according to prosecutors. The searches stemmed from a tip from Yahoo that a user uploaded approximately 260 files of child pornography. New York State Police traced the IP address back to Lane. Lane is the third person with ties to a regional school district to be arrested for child pornography in the last month. According to 13WHAM, investigators said Lane's girlfriend discovered child porn on his laptop last year and said he told her it was a mistake.
Governor Hochul is directing state agencies to be prepared to respond to emergencies as the remnants of Tropical Depression Nicole arrive in New York. The governor's office says heavy rainfall and flooding is possible in multiple regions, including the Finger Lakes, as are strong wind gusts. New Yorkers are being urged to keep a close eye on the forecast over the next couple of days and to follow any emergency orders that are issued. For safety tips, go to the New York State Division of Homeland Security and Emergency Services website.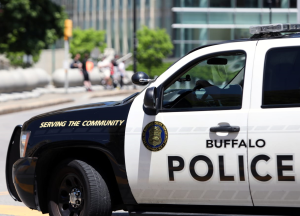 Two security guards are being called heroes after helping take a man who is suspected of being involved in two separate shooting incidents into custody. Officials say that the man entered a substance abuse clinic on Virginia Street in Buffalo yesterday with an AR-15 style rifle and opened fire. The guards ended up tackling him before anyone inside of the facility could get hurt. The man is also suspected of shooting a woman at a nearby residence before going to the clinic. The name of the gunman has not been released.
43-year-old Octavio Smith of Buffalo has been arrested and charged with destruction of government property. He's the man who threw a brick at the window of the FBI Buffalo Field Office. Smith was detained by on-site security personnel; he reportedly said he did this to get the FBI's attention. Investigation of the damage indicated a severely cracked window that needed to be replaced at an estimated cost of $5000. If convicted, Smith faces a maximum penalty of 10 years in prison and a $250,000 fine.
Some of the most popular toys of all time have been officially inducted into the National Toy Hall of Fame at the Strong museum in Rochester. The Class of 2022 includes the spinning top, the Lite-Brite and Masters of the Universe action figures. The toys were picked by a committee of experts and by using the results of an online vote. Some of the nominees this year were bingo, Pound Puppies, Nerf toys, the piñata, and Breyer horses. By the way, last year's inductees were Literal Sand, like what you'd find at the beach, the board game Risk and American Girl Dolls.
Country singer Thomas Rhett is bringing his latest tour to Western New York next year. He'll be taking the stage at the KeyBank Center in Buffalo on Thursday night, July 6th, 2023 at 7:30. The Grammy Award nominee is known for several popular songs including "Country Again," "Get Me Some of That," and "It Goes Like This. Tickets for the show went on sale today.
The struggles of the Buffalo Sabres are continuing as the team drops its fourth consecutive game. Tage Thompson scored twice while Rasmus Asplund and Casey Mittelstadt also had a goal as Buffalo was beaten by the Vegas Golden Knights 7-4 at KeyBank Center last night. Former Sabres star Jack Eichel had a hat trick against his old team. You know that generated a few boos from fans. Up next for the Sabres is a home game against the Boston Bruins tomorrow night.
The Buffalo Bills will be back in action in front of the home crowd this weekend as they try and avoid a second straight loss. The AFC East leaders are hosting the Minnesota Vikings at Highmark Stadium in Orchard Park. The playing status of Josh Allen remains unknown after he missed another day of practice yesterday due to an elbow injury. The Bills are coming off a defeat last week at the hands of the New York Jets. Kickoff for Sunday's contest is 1:00.
---