Afternoon News Brief
Written by Doug Thompson on November 16, 2022
52-year-old Ronnie Johnson has been charged with burglary and grand larceny for a theft last summer on East Main Street. He was also charged on a warrant with grand larceny and conspiracy in reference to another theft. Johnson is already in jail, charged with forcibly raping a woman. He was arraigned on the new charges and returned to Genesee County Jail.
All local high school sports originally scheduled for Friday night are postponed and rescheduled to be played Monday night, November 21st at 6:00. The Batavia Blue Devils will meet The Iroquois (from Elma) in their Regional Final at Van Detta Stadium. The OAE playoff game against Randolph will be contested at SUNY Brockport and Lackawanna will travel to Attica for their 6:00, Far West Regional game.
The GRC-GLOW chili and chowder fest at the Community Center at 38 Woodrow Road, originally scheduled for Friday and Saturday, has been postponed due to the storm. It's been rescheduled for Friday and Saturday, December 16th and 17th..
A lake-effect snow warning is in effect starting at 7 tomorrow evening and will be in place until 1:00 Sunday afternoon. Heavy snow is expected in Northern Erie and Genesee Counties, with accumulations of 2 to 3 feet in the most persistent lake snows. The heaviest snow is expected through Friday night with snowfall rates up to two inches per hour. Travel will be very difficult to impossible. Some major roadways could temporarily close; the hazardous conditions will impact the commute on Friday. If you'll be on the road, be prepared for rapidly changing road conditions and visibilities.
You'll have six months to find a new home for certain farm animals, if you own them within City limits. The City Council has passed the revised law, which means sheep, horses, pigs, cows, geese and other animals most commonly seen on a farm, will no longer be allowed. The exception is up to six chickens, as long as they are penned and maintained appropriately, with no odors or mess. The measure will be enforced based on complaints received about alleged offenders. Certified service animals are not affected by the new law.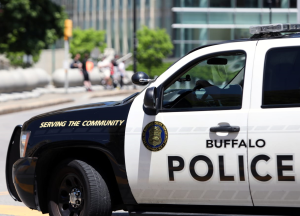 The man accused of opening fire inside of a methadone clinic in Buffalo has been ordered by a judge to undergo a psychiatric evaluation. Prosecutors say Jeremy Griffin entered the clinic on Virginia Street with an AR-15 style weapon last week, but he was tackled by security officers before anyone was injured. Griffin is also charged with shooting a woman on Pennsylvania Street before going to the clinic. His next court appearance is scheduled for December 12th.
According to new data from the state, the spread of the coronavirus is still on the decline in our region. Currently, the 7-day average infection rate is 4.55%. At this time last week the average infection rate was at 5.52%. Anyone who has yet to be immunized against the virus or wants to receive a COVID-19 booster shot can set up an appointment by going to vaccines.gov.
The losing streak of the Buffalo Sabres has now reached six straight games after the team suffers another defeat on home ice. Jeff Skinner had two goals and Casey Mittelstadt and Alex Tuch also scored but the Sabres were beaten by the Vancouver Canucks 5-4 at KeyBank Center last night. Buffalo goaltender Craig Anderson was only able to stop 27 of the 32 shots he faced in the contest. Up next for Buffalo is a road game tonight against the Ottawa Senators; face-off is at 7:00.
---