Afternoon News Brief
Written by Doug Thompson on December 27, 2022
A four-time ex-con who was indicted in October for violating sex offender registry rules was arrested again on the same charges. According to Genesee County sheriffs, 46-year-old Arthur Brown of Batavia has been charged with failure to report a change of address within 10 days. The charge is a class D felony because Brown has two previous felony convictions for the same charge.
President Biden has signed an emergency declaration to provide federal help to Buffalo and surrounding areas (including Genesee County) that were impacted by a deadly winter storm. So far, the deaths of over two-dozen people in the region have been linked to the weather disaster, including at least 20 in Buffalo alone. As cleanup efforts continue, residents there are asked to stay off the roads so crews can safely work on removing the snow that fell and first responders can get to people who need help. Utility crews are also making progress towards restoring power to customers who have been without service for days.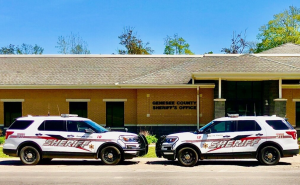 28-year-old Ashley Schaefer of Batavia has been charged with petit larceny after allegedly stealing over $250 worth of merchandise from Walmart in Batavia. She was transported to Genesee County Jail for processing and released on an appearance ticket. Schaefer is scheduled to appear in Batavia Town Court on January 17th.
Not sure why anyone would've thought of this as a good idea during a blizzard…but someone did. State Police were called to the scene of a 2-car crash in Barre on Saturday afternoon. There were no injuries; however, an investigation found that one of the cars had been stolen. 37-year-old Ashlee Corter of Walterboro, South Carolina was charged with the felony of possession of stolen property, punishable by up to seven years in state prison. Corter previously lived in Albion. She was released with an appearance ticket for a later court date. In 2018, Corter was charged with grand larceny for stealing a car in Albion.
Wyoming County Sheriffs have arrested and charged 50-year-old Paul Zangerle of Warsaw for petit larceny. He allegedly left the Warsaw Walmart with a cart full of items without paying for them. Zangerle was issued an appearance ticket and released, and will return to Town of Warsaw Court at a later date.
Today Assemblyman Steve Hawley announced that his office would distribute free fuel weatherizing kits courtesy of National Fuel Gas. The kits are intended to help residents to better afford the costs of heating their homes this winter. You can pick up your kit at the Richmond Memorial Library.
Monroe County has sent help out to Buffalo and surrounding communities as recovery efforts from a deadly blizzard continue. Over two-dozen residents in that region have lost their lives due to the weather disaster, and cleanup is expected to take several days to complete. Monroe County Executive Adam Bello says that six storm emergency fire units will be on the ground, as will members of the Rochester Police Department. In a statement, Bello also expressed condolences to everyone impacted by the storm.
Buffalo Mayor Byron Brown is criticizing the people who looted stores in the city during the blizzard by calling them absolutely reprehensible and the lowest of the low. Brown made the comments during a news conference yesterday, saying these individuals did not steal from businesses while they were looking for food or other necessities, instead, they just took whatever they wanted. Some arrests have already been made in connection with these cases. Tips can be submitted by contacting police at 716-847-2255.
The American Red Cross is helping out 20 people who were displaced following a blaze in Buffalo that ended up damaging four residences. Crews were called to battle the two-alarm fire on Lonsdale Road yesterday and say the roof of one home ended up collapsing and three others were affected by exposure to smoke and flames. There were no injuries reported. Just what caused the fire is still under investigation.
The Rochester Fire Department says a burst pipe was responsible for causing a big mess at the University of Rochester's Clinical Research Center. When crews arrived at the building on Crittenden Boulevard yesterday, they noticed there was water flowing from a four-inch standpipe on the fifth floor. As a result, there was extensive water damage done to multiple floors. Patient care at the building was never affected.
State Attorney General Letitia James has issued a consumer alert to New Yorkers after getting reports of price gouging involving children's medication. Right now, there are a high number of flu, RSV, and COVID-19 cases in the Empire State and James says medicines for kids such as painkillers and fever reducers are being sold for up to three times their retail value. Under state law, merchants are prohibited from selling goods that are vital to the health of consumers for an excessive price. Anyone who wants to report price gouging can do so by calling 1-800-771-7755.
For the second time in the past week, the Buffalo Sabres have had a scheduled game postponed. The team was supposed to visit the Columbus Blue Jackets tonight, but because Buffalo Niagara International Airport is still closed, the team is not able to fly to Ohio. The Sabres game this past Friday against the Tampa Bay Lightning was pushed back to March 4th because of the massive snowstorm that hit the area. The new date for the Columbus contest hasn't been scheduled yet.
One of the largest jackpots in Mega Millions history is going to be up for grabs this evening. No one won on Friday, meaning whoever picks the winning numbers for tonight's drawing will receive at least $565,000,000. There has not been a Mega Millions jackpot claimed since October, when tickets for a $502,000,000 prize were sold in Florida and California. The biggest Mega Millions jackpot was over $1.5 billion dollars back in 2018. Please play responsibly.
---