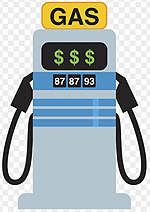 Gas prices in Buffalo have reached the 3 dollar mark for a gallon of regular.  Experts expect that the price will continue to rise through the memorial day weekend.  The average price of gas in New York is now 3.07 and the national average is 3.04.  The average in Batavia is 2.99  New data from the Energy Information Administration shows demand is up while supply is down ahead of Memorial Day Weekend, in which more than 37 million Americans are expected to travel more than 50 miles by road or by air.
The Jays at Sahlens Field are planning on increasing the size of their vaccinated seating section before their first home game on June 15th.  They are moving up from 35 percent to 45 percent making 66 percent of all seating fall into the fully vaccinated category.  Tickets for the seats will go on sale Thursday at 10am.  According to the Blue Jays, based on the latest CDC and NYS guidance fans will no longer be required to wear face coverings while in the outdoor seating bowl.
Darien Lake amusement park is back open again but one beloved ride will not be returning.  The Giant Wheel has ended its 38 year run at the park.  Originally the 165 foot tall Ferris wheel was at the 1982 Worlds Fair in Knoxville, Tennessee and was the tallest in the world when it was first built.  Also not opening this season and reportedly being dismantled is the Grizzly Run raft ride.
The Free Concert series at Jackson Square artists have been announced.  The concerts go from June 25th through August 27th.  The artists who will be performing are: Penny Whiskey, Old Hippies, Home to Home Concert Series, Skycats, The Don Newcomb Band, Ghost Riders, Tommy Geraci's Rio Bravo, SDP Jazz Trio, Bluesway Band, Mitty and the Followers and Red Creek.  For the complete Schedule check out our news partner the Batavian.
Genesee County is participating in the stop DWI program from Friday to Tuesday.  This campaign will mean more police in high traffic areas and an increase in pulling people over if they are suspected of drinking and driving.  Memorial day weekend is a time when more people get behind the wheel after drinking and targeted enforcement has lowered drunk driving deaths by as much as 25 percent.
---