Batavia City School District's Board of Education met this morning to take a vote on making face masks optional per Governor Kathy Hochul's decision earlier this week, to rescind the mask mandate. It took less than 3 minutes to obtain the unanimous 'yes' vote by board members, the result – face coverings are now optional in Batavia schools.
The latest data from Governor Hochul's office shows the spread of COVID-19 has slowed down dramatically across New York in the last few days. The statewide positivity rate has been below two-percent for seven straight days and is now at 1.4%. The seven-day average infection rate in Western New York is also falling and is now around 2.7%. Governor Hochul is still urging anyone who hasn't been vaccinated against coronavirus yet to get their shot to prevent another surge in cases.
In addition, in reference to the decline in COVID-19 cases, Erie County Executive Mark Poloncarz announced this afternoon that the state of emergency that has been in place since March 2020, officially ends tomorrow.
An investigation into a traffic stop has led to a multi-count indictment against two Buffalo residents for having drugs and stolen property. 29-year-old Damone Hennings and 21-year-old Analyse Spencer were arraigned in Wyoming County Court late last week. A Trooper pulled them over last August; neither of the two had a valid driver's license, which prompted police to a search their car. Deputies found a plastic contractor bag in the trunk which allegedly contained 11 one-pound sealed packages of cannabis, a stolen wallet with multiple credit cards and another wallet with eight state unemployment benefit cards, all with different names on them. Both face multiple charges and both have entered not guilty pleas. They return to court next month.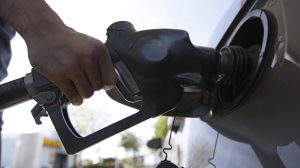 Gas prices continue to increase and NY State, along with Pennsylvania, Illinois and many states on the west coast, are experiencing some of the highest prices per gallon in the country. The state average is $4.05/gallon, up 13 cents from yesterday; 28 cents from a week ago; and nearly 50 cents from this same time last month. In Batavia, the average price per gallon is now $3.97, up 22 cents since Monday. To help counter the impact of rising oil prices, the International Energy Agency has coordinated a release of 60 million barrels of crude oil from its 31 member countries' strategic reserves, including the U.S., Germany, Canada, South Korea, and Mexico. Meanwhile, Triple A offers the following tips to help you save on fuel costs: start the engine and then drive the car normally to warm the engine to operating temperature more rapidly; and avoid "jack rabbit" starts, rapid acceleration and hard braking, which can lower fuel economy by 15 to 30 percent at highway speeds and 10 to 40 percent in stop-and-go traffic. A link with a comprehensive list of suggestions to save fuel is available here:  https://gasprices.aaa.com/news/fuel-saving-tips/
Some of the student members of Attica Central School's chapter of the National Junior Honor Society, recently returned from a trip to Washington D.C. where they had the opportunity to lay wreaths on the graves of the fallen, as part of National Wreaths Across America Day. One student, Addyson Zawilski, had the opportunity to visit and lay wreaths on the graves of her maternal great-grandparents. One of the group's advisors, Heather Smith, hoped the trip impressed on students the significance of the sacrifice service members buried in Arlington had made for the country.
If you're looking for a job, consider The New York State Police. They are looking to bolster their ranks during a recruitment event at the Walden Galleria in Cheektowaga. It's scheduled to take place tomorrow from 11am – 2pm across from the Dave and Busters. Career information will be available as well as details on how to sign up for the upcoming Trooper exam. The annual starting salary for a State Police officer is just over $58,000 but increases to more than $82,000 after the first year.
It appears that one of the largest companies in the world may be setting up shop in the Western New York region. According to several reports, Amazon wants to build a brand-new distribution facility in the Town of Niagara. Previously, Amazon was looking into building the facility in Grand Island, but the plan was scrapped due to community opposition. The distribution center could create over 1,000 jobs for the local economy. It'd be located on Lockport Road near Niagara Falls International Airport.
A police report has revealed more details about that JetBlue pilot who was pulled from the cockpit of an aircraft due to suspicion that he may have been under the influence of alcohol. 52-year-old James Clifton, an Orlando native, told investigators he drank 10 22-ounce beers the night before the plane was scheduled to travel from Buffalo to Fort Lauderdale on Wednesday. He was taken into custody and his blood alcohol content was .17, a little more than twice the legal limit and over four times what's allowed for pilots. JetBlue has fired Clinton. Affected passengers each received a $200 voucher.
State Attorney General Letitia James has issued a warning to NY residents and businesses about scams related to the ongoing crisis in Ukraine. The Attorney General says people should be on the lookout for price gouging of fuel, goods and services and also take the necessary steps to protect themselves against a potential cyber-attack. People looking to donate money to help Ukrainians should also look into the background of a charity to make sure it's credible. Anyone who sees a potential scam should notify the attorney general's office immediately. Attorney General Letitia James:
"At a time of great chaos, confusion, and destruction, it is imperative that New Yorkers be on alert for potential risks to when donating to charitable causes," said Attorney General James. "Many New Yorkers are eager to do their part to help the Ukrainian people, but scammers often take advantage of crises to exploit our generosity and compassion. We will continue to do all that we can to support Ukraine, and I encourage anyone who has experienced any issues to contact my office."
Regarding Charitable Giving:
New Yorkers seeking to donate to charities should take the steps below before donating over the phone, through mail, or online to ensure that their contributions reach the causes they intend to support. Important tips to keep in mind include:
• Solicited by email? Find out who is soliciting. If you receive a solicitation by email, find out who is behind that email address. Contact the charity whose name is in the email or visit its website to find out if the email is really from the charity. Do not give personal information or your credit card number in response to an email solicitation unless you have checked out the charity.
• Be careful when giving through social media or other fundraising sites; research the identity of the organizer of the fundraising efforts and ask the same questions you would of a charity. Online platforms that host groups and individuals soliciting for causes may not thoroughly vet those who use their service. Donors should only give to campaigns conducted by people whom they know. Donors also should take a close look at the site's FAQs and Terms and Conditions to see what fees will be charged. Also, don't assume that charities recommended on social media sites, blogs, or other websites have already been vetted. Research the charity yourself to confirm that the charity is aware of the campaign and has given its approved permission for the use of its name or logo. If available, sign up for updates from the campaign organizer to keep abreast on how contributions to the campaign are being spent.
• Check before giving. Donate to charities you are familiar with and carefully review information about the charity before you give. Most charities are required to register and file financial reports with OAG's Charities Bureau if they solicit contributions from New Yorkers. Check OAG's website for financial reports of charities or ask the charity directly for its reports.
• Ask how your donation will be used. Find out how the charity plans to use your donation, including the services and individuals your donation will support. Find out more than just the cause. Find out what organization or entity will receive the money and what programs it conducts or what services it provides.
• Look into newly formed organizations carefully. Often, in the aftermath of tragedies, new organizations emerge to meet community needs. While most of these organizations are well-intentioned, and some may provide innovative forms of assistance, some may not have the experience or infrastructure to follow through on their promises, and some may turn out to be scams.
• Exercise caution before you text a contribution. Check the charity's website or call the charity to confirm it has authorized contributions to be made via text message.
• Don't give cash. Give directly to the charity either by check made payable to the organization or through the charity's website.
• Be careful about personal information. Be cautious before giving credit card or personal information over the phone, by text message or via the Internet. In all cases, make sure you are familiar with the organization to which you give such information and check to see that the fundraising campaign is legitimate.
• Report suspicious organizations. If you believe an organization is misrepresenting its work, or that a fundraising or charitable scam is taking place, please contact the Charities Bureau at complaints@ag.ny.gov.
---