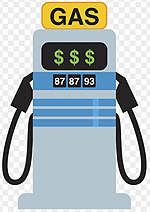 Western NY drivers aren't seeing any relief from high gas prices as the pain at the pump continues to worsen. According to Triple A, the average cost for a gallon of regular fuel is now $3.75, that's up 6 cents in the past week and is 30 cents more than this time last month. The state average is $3.80 a gallon while nationally it's $3.60. In Batavia, our current average is 3.75, up 8 cents from a week ago. One year ago this week, the average price was $2.72.
And this morning, oil prices remain elevated. Crude prices surged after Russia launched its military invasion of Ukraine. As the conflict escalates with more sanctions and retaliatory actions, the oil markets will likely respond by continuing to increase the price of crude oil to reflect more risk of disruption to tight global oil supplies.
Governor Kathy Hochul has made a major announcement involving a mandate requiring kids to wear masks while in school. Governor Hochul said that the rule, which was put in place to slow down the spread of COVID-19, is being lifted as of this Wednesday. Hochul says the latest data revealed the number of kids who are testing positive for COVID-19 has fallen to levels not seen since before children came back from summer break. While facial coverings are no longer required by the state, local governments still have the authority to set up their own mandates.
Le Roy Central School Superintendent Merrit Holly, in an email and automated phone call to parents said beginning on Wednesday, masks will be optional for all Le Roy Central School District students, teachers and staff in all areas of the school, including on buses, in hallways, classrooms and for athletics. Masks are still required today and tomorrow.
Students at McKinley High School in Buffalo will finally be returning to their classrooms this week. Classes were shifted online earlier this month after a violent incident that left a 14-year-old student with several stab wounds and a security guard with a gunshot injury to the leg. Seniors are going to be the first to head back to school tomorrow followed by juniors, sophomores and freshmen for one day each the rest of this week. Officials are hoping to have everyone back in the building at once by March 11th.
Genesee County Republican Party Chairman Dick Siebert, announced that Congressman Chris L. Jacobs has the endorsement of the Genesee County Republican Party for the new 24th Congressional District. In a press release, Jacobs is described as a supporter of local families, farmers and small businesses in Genesee County. Jacobs said he is deeply honored by the endorsement.
The losing streak of the Buffalo Sabres has now reached six games following a defeat in the Lone Star State. They lost 4-2 to the Dallas Stars at American Airlines Arena yesterday. Buffalo goalie Craig Anderson gave up all four Stars goals and faced a total of 31 shots. Up next for Buffalo is a road game against the Toronto Maple Leafs Wednesday night.
---