Two men remain in custody today accused of stabbing and killing 2 other men at a bunkhouse at Blumer Dairy Farm on Alexander Road in Alexander. 18 year old Raul Cruz of Warsaw and 23 year old Prince N.K. Wilson of Albion were arrested Saturday and are being held without bail. Cruz was caught following a 9-hour manhunt in Warsaw and Wilson was caught in Batavia. Law enforcement and the fire department were both dispatched to the scene of a burning dwelling on Friday night, where two Latino men were found stabbed to death  inside. Investigators believe this was an isolated incident and there was no threat to public safety. The Genesee County Sheriff's Office isn't releasing any more information right now, including the names of the victims. First they want to notify the families of the two men. The investigation in the case is ongoing. (Pictured from left to right, Wilson-Cruz)
New York State is preparing the budget for this year and hopes to have it ready by the end of the month. 1.25 billion dollars is being suggested for the Emergency Rental Assistance program to help tenants who are behind on their rent. In addition, 400 million dollars is being called for to help landlords whose tenants haven't being paying rent. Help with the high utility bills is on the way to the tune of 500 million dollars. The governor has so far been resisting requests from both democrats and republicans to suspend the New York Gas tax until at least September to fight the record high prices at the pump and in home heating. Hochul says she hasn't changed her spending or budget numbers to account for what suspending the tax would do to the revenue for the state.
Two homes were destroyed this morning in Basom. A propane tank was accidentally tipped over in a home on Meadville Road. It ignited a fire that destroyed that home and the residence located in front of it. A 31-year-old woman suffered burns and was treated at the scene. No other injuries were reported.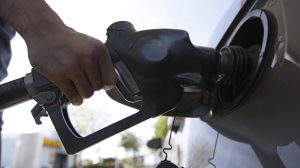 The price at the pump has leveled off, at least temporarily, in Western NY; however, it doesn't appear there's any immediate relief in sight. According to Triple A, the average cost for a gallon of regular fuel is at $4.40. That's up 26 cents from this time last week and is 79 cents higher than last month. Right now, the state average is $4.45 and nationally it's $4.32. In Batavia, the average price per gallon is $4.38, up one cent since yesterday and 78 cents from a month ago.
The Buffalo Sabres have won their second straight game after coming out on top in the NHL Heritage Classic. Hinostroza and Krebs each had a pair of goals for Buffalo; Thompson also scored as the Sabres beat the Toronto Maple Leafs in yesterday's outdoor game in Hamilton, Ontario, Canada; final there was 5-2. The Sabres had solid goaltending from Craig Anderson who stopped 34 of the 36 shots he faced. Buffalo will continue their Canadian road trip Thursday against the Edmonton Oilers.
A weekend fundraiser organized by the Rochester Philharmonic Orchestra is being called a major success. The orchestra performed Saturday night at Eastman Theater and collected tens of thousands of dollars in donations, which will be used to help people living in Ukraine. If you still want to donate, information on how to help is available online at rocmaidan.org.
The Geneseean of the Year award at the Annual Chamber of Commerce Awards Ceremony for 2021 went to Jay Lazarony. He was selected for being an exemplary professional and volunteer, for founding GLOW With Your Hands in 2019, and his work with the Youth Bureau. Lazarony has been the Executive Director of the GLOW Workforce Development Board for 25 years.
Saint Patrick's Day is a still a few days away, but in just a few hours, some lucky person will be surrounded in green, by winning over $100,000,000. The prize up for grabs in tonight's Powerball jackpot will be at least 124,000,000 dollars after no one won Saturday's drawing. The cost of a ticket to play the popular lottery game is just $2.00. The drawing is going to be streamed live online at powerball.com. Please play responsibly.
Isaiah McKenzie, wide receiver and kick punt returner has signed back on with the Bills for a 2 year contract. He was set to become an unrestricted free agent. McKenzie joined the Bills in 2018 and primarily took on a punt/kick returning role during the 2020 offseason following the departure of Andre Roberts. This season with the Bills, he returned 43 kicks and punts for 731 yards. In the receiving game, McKenzie had 20 catches for 178 yards and a touchdown this season. According to Ian Rapoport, the deal is worth a total of $8,000,000.
---