The Batavia City School Board is meeting this evening starting at 6:00 at the High School. Among the topics for discussion include Universal Pre-Kindergarten to accommodate more than 100 children for the 2022-23 school year. In other meeting items, the board is expected to vote on a proposal from Johnson Controls of Rochester for an energy performance contract. If approved, construction would begin in September of this year with a completion date of August 2023.
· The 2022-23 preliminary $55 million budget, which includes a 1.62 percent tax levy increase. The board had its first budget workshop on Tuesday of this week to discuss a financial plan that left a gap of $315,716 to be paid for by taxpayers. Board President Alice Benedict said the board doesn't want to increase the tax rate "whatsoever."
· Setting the official registration, voting and public hearing dates for the 2022-23 budget.
· Revising the description of a school social worker to replace an itinerant social worker.
· Approval of several personnel appointments and resignations.
· A shared services agreement between Batavia City School District and the Town of Batavia for shared services and equipment use for a five-year term.
· The purchase of sensory room equipment for Jackson Primary and John Kennedy Intermediate from Fun & Function and School Specialty for $22,031.99.
The meeting includes time for public comments, and an executive session to discuss a resolution to "assert paid-leave for an employee until further notice," followed by the vote in open session.
A new report says former Governor Andrew Cuomo may be planning to challenge current Governor Kathy Hochul in a Democratic primary. Sources close to Cuomo say he's been talking with supporters about the possibility of running against Hochul, who used to be his Lieutenant Governor. Hochul ended up taking Cuomo's job last August after he left office following allegations from multiple women that he sexually harassed them, claims that Cuomo has repeatedly denied. A poll released last week by Emerson College found Cuomo only a few percentage points behind. Hochul received 37% of Democratic voter support in the hypothetical match-up, while Cuomo garnered 33%. Neither U.S. Rep. Tom Suozzi nor Public Advocate Jumaane Williams could register even double-digit support.
The Buffalo Sabres continue their Canadian road trip tonight as they look to extend their winning streak to three games. They'll be taking on Connor McDavid and the Edmonton Oilers at Rogers Place. The Sabres are coming off of a 5 to 2 victory over the Toronto Maple Leafs in Sunday's NHL Heritage Classic. Face-off for this evening's contest is scheduled for 9:00.
A 34-year-old Elba man is facing a number of charges for a series of crimes he allegedly committed over the past week. Matthew Williams of Hundredmark Road has been arrested by Genesee County Sheriff's deputies and charged with endangering the welfare of a child and harassment, after he head-butted a person in front of the child. He also allegedly stole items from a location in Barre and was subsequently charged with 3rd degree grand larceny, a felony punishable by up to seven years in prison. A day later, Williams was arrested after allegedly stealing a car and violating an order of protection, related to the head-butting incident. He has been issued appearance tickets for all the cases and will appear in Town Court at a later date. Williams previously served two state prison terms, one for burglary and the other, for grand larceny. He was most recently released to parole in January 2020.
According to a report from CTV News, Canada will lift the pre-arrival COVID-19 test requirements for fully vaccinated travelers as of April 1. It was noted, however, that although the requirement to show proof of a negative COVID-19 test will be lifted, travelers might still be subject to random PCR testing at airports. Travelers will also still have to use their app, called ArriveCAN, to show proof of vaccination and other required information. On February 28th, adjustments to COVID-related measures at the border went into place, which included allowing travelers to have the option of using a COVID-19 rapid antigen test result within 24 hours, or a molecular test result within 72 hours to meet pre-arrival requirements.
Today, eight of the top teams in college basketball will be playing in Buffalo as the NCAA Division One men's hoops tournament gets underway. South Dakota State and Providence will be in the first game at KeyBank Center followed by Iowa against Richmond, UConn against New Mexico State and Arkansas versus Vermont. The winner of these games will advance to the next round of the tournament on Saturday. There are still seats still available and they can be purchased online.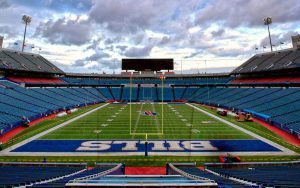 The Buffalo Bills are offering their fans a chance to have a say in the development of the team's new stadium. Plans have been announced to hold focus group sessions at Highmark Stadium in Orchard Park that are made up of season ticket holders. The first meeting set for March 29th doesn't have any more spots available, however there will be additional sessions in the future. Team ownership wants to build a new facility across from Highmark Stadium but despite months of negotiations, a final agreement has not been worked out yet.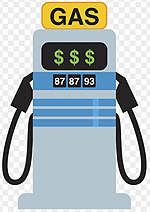 From Triple A this morning, it appears gas prices remain leveled off, at least for now. The average price statewide $ 4.41 per gallon; that's down 2 cents from yesterday and down a nickel, from a week ago. In Batavia, the average price is $4.38; up two cents from yesterday but down a penny from a week ago.
A traffic alert reminder: Starting on Monday, and continuing for the next 8 months, construction work begins on Park Road. They will be installing new utilities, reconstructing and then resurfacing Park, from the intersection of 63 to Route 98. Northbound traffic on Park Road will be detoured onto Veteran's Memorial Drive with southbound traffic staying on Park. Access to Alex's, Tops Plaza's rear entrance, and Batavia Downs will be available only while traveling southbound. The timeline for completion is November 2022.
---