Midday News Brief
Written by Dan Fischer on February 16, 2021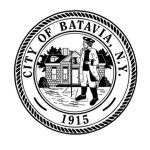 The city wants to know what you think of planned improvements to Jackson Square.
A special Zoom meeting will be held for business owners and the general public this Thursday at 6pm.
Jackson Square is a popular spot on Friday nights during the summer featuring a variety of music. The square lies between Center and Jackson St. The city has a fist full of state money, part of the Downtown Revitalization Initiative, to improve the stage and the pavement in the square.
Link to the Zoom Meeting
A Genesee County man arrested twice in less than two and a half hours. 41 year old Edwin Standcliff of Corfu was arrested in the Town of Batavia for Felony DWI. A short time later, he was arrested again for felony assault in an unrelated matter.
An AMBER Alert has been issued following the abduction of a teenager in North Tonawanda. Police say Stephnie White was abducted last night by Michael Mesko on Niagara Falls Boulevard. Investigators believe White may be in imminent danger of either serious harm or death. Anyone with information about her whereabouts is asked to call 911 or North Tonawanda police.
Governor Cuomo is responding to claims his administration intentionally withheld data on the number of nursing home residents who died after contracting COVID-19. During a news conference yesterday, the governor said his administration should have responded quicker to requests for that data, which were made by lawmakers and the media. The governor says failing to do that caused a void where misinformation was created and spread. He also said that his office did everything it could to keep people from losing their lives.
The Buffalo Sabres were back in action for the first time in weeks last night, but things didn't go as planned. Victor Olofsson had Buffalo's lone goal as they fell to the New York Islanders three-to-one at KeyBank Center. The Sabres hadn't played since late January after several members of the team were placed on the NHL's COVID-19 protocol list.
---