Midday News Brief
Written by Dan Fischer on February 17, 2021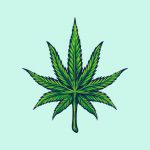 Governor Cuomo's plan to legalize recreational marijuana now includes an option to have the drug delivered right to your home. Last month, the governor unveiled the framework of his latest proposal to legalize pot, which would allow people 21 and older to buy it from state-approved dispensaries. Local governments would be able to prevent the home delivery option from being available. The governor believes legalizing the drug could generate billions of dollars in needed revenue for the state.
New York State's 7-day average COVID-19 positivity rate has dropped to 3.71 percent, the lowest since November 28. Genesee County's positivity rate is down slightly to a seven day average of 2.5-percent.
Genesee County Public Health Director Paul Pettit will deliver an update tomorrow on the Coronavirus situation. Pettit expected to talk about area vaccination efforts.
WBTA will carry Pettit's remarks live, beginning at 10:30 tomorrow morning.
As cases of COVID-19 are trending downward, Rochester Regional Health and UMMC in Batavia are expanding visiting hours.
The hospital is allowing visitors seven days a week.
You still must wear masks, practice hand-washing and stay socially distanced when possible.
From Batavia City Hall: The Batavia Department of Public Works Administration and the Bureau of Inspection will be closed this Monday, Feb. 22, for mandatory training.
The offices will reopen on Tuesday, Feb. 23.
The Genesee County & City of Batavia Youth Boards are looking for nominations for their annual Youth Recognition Celebration. The awards include the Youth Recognition Award, the Adult Volunteer and Adult Youth Worker. Nominations are due by Friday, March 5. For more information or to receive nomination forms, please call the Genesee County Youth Bureau 344-3960). The forms are also on the Youth Bureau page of the Genesee County website.
---