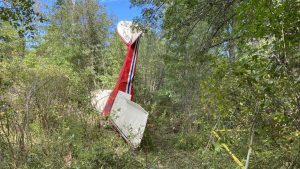 On Saturday around 12:50pm Amherst Fire responded to reports that a plane had crashed in Clarence.  They found a single engine plane had gone down just south of Clarence Aerodrome.  Mercy Flight responded and the pilot, who was trapped in the cockpit with serious injuries, was airlifted to ECMC.  No details yet on what caused the crash or where the plane was going to at the time of the crash.
Another weekend of violence in Rochester with 2 people murdered and several shootings.  Around 11pm on Saturday police responded to an alley off Pearce Street for a report of a body.  They found a woman who had been murdered.  She was in her 30s or 40s and has not yet been identified.  Then at around 2am on Sunday morning police responded to a motor vehicle accident on Jefferson and Iceland Park.  They found a man in his 50s with a gunshot wound to his upper body.  He was pronounced dead at UR Medical Center.  Saturday morning a woman in her 20s was shot on Third Street.  She was taken to Rochester General with non-life threatening injuries.  This brings the number of murders in Rochester to 62.
From Buffalo to Rochester and everywhere in between thieves are making off with cars catalytic converters.  Police in Brighton gave out kits to try to prevent theft of catalytic converters at an event on Sunday at Brighton High School.  The kits include a non destructible tag and an engraving fluid to put a serial number on the converter.  People steal the car parts to sell to scrap companies, the hope is that these tags and serial numbers will allow scrap companies to report people who sell stolen converters.  The kits were free and donated by the Empire Chapter of the Institute of Scrap Recycling Industries and by Metalico-Rochester.
The latest data from Triple A shows the price of gas is still on the decline in Western New York. Right now, the average cost for a gallon of regular fuel is 3.84 in Batavia. That's down a dime in the past week and is 50 cents cheaper than this time one month ago. The state average is currently sitting at 3.68, which is down ten cents in the last seven days and the national average is 3.71.
Have you seen the new mural being painted on the back of GO ART! By Perry resident Dan Butler?  The mural on Seymour Place is of many different people holding flowers and is meant to show a welcome for everyone.  Butler paints the people and Jill Pettigrew paints the flowers they hold.  Go take a look and be welcomed.
The Buffalo Bills tried to feast on some fish Sunday afternoon but quickly realized that Buffalo are vegetarian and Dolphins aren't fish.  Miami beat Buffalo 21 to 19 for the Bill's first loss of the season.  Both teams were 2 and 0 going in.  Buffalo went in without safety Micah Hyde who will be out for the rest of the season with a neck injury.  The game was fraught with failed conversions, fumbles and a safety.  The Bill's next game is Sunday against the Baltimore Ravens at 1p.  
---