Morning News Briefing
Written by WBTA STAFF on March 25, 2020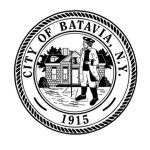 In order to accommodate families and residents impacted by the response to COVID-19, the City has decided to suspend enforcement of overnight parking regulations until further notice allowing overnight parking.
If a vehicle is blocking work for the Department of Public Works or in the event of an emergency, residents will be asked to move their vehicle or it may be towed.
All other parking regulations such as blocking a fire hydrant, parking in a fire lane or parking in a handicap zone will still be strictly enforced.
Residents are also reminded to prevent theft by locking their vehicles and always removing valuables.
Police Officers in Batavia will no longer provide courtesy unlock of vehicles, unless there are exigent circumstances such as a child or pet locked inside while taking enhanced extra precautions when responding to calls for service.
To better aid in appropriate response from emergency personnel, callers to dispatch will need to answer screening questions.
City of Batavia Police Officers and other emergency personnel may wear respirator masks, protective gloves, clear safety glasses and other personal protective equipment when answering calls.
Anyone with signs or symptoms for Coronavirus should inform dispatchers, officers, and emergency personnel as soon as practicable.
As of yesterday afternoon there are now 3 new positive cases of coronavirus in Orleans County and still 1 confirmed case for Genesee County.
In Orleans County 4 people are under precautionary quarantine, 13 people are under mandatory quarantine, and 3 people are under mandatory isolation 1 of whom is hospitalized and 2 are recovering at home.
The contact tracing has been initiated for the new cases.
Known contacts to these two cases have already been placed under mandatory quarantine and will be swabbed if indicated.
In Genesee County 7 people are under precautionary quarantine, 21 people are under mandatory quarantine, and 1 person is under mandatory isolation at home and is recovering.
According to Paul Pettit, Director of Genesee and Orleans County Health Departments "We will start to see our numbers increase moving forward."
The first coronavirus death has been confirmed in Erie County.
Officials say the individual was a woman in her 80's but didn't release her name or say if she had any underlying medical conditions.
Meanwhile, County Executive Mark Poloncarz says the number of people infected by the disease has passed 100 and is expected to keep getting bigger as more test results come back.
The highest number of cases are in Buffalo and Amherst.
Poloncarz is continuing to urge folks to keep taking part in social distancing to try and slow the spread of the illness.
Monroe County officials have confirmed a third death due to the coronavirus.
They say the individual was a patient at Strong Memorial Hospital but didn't release their name.
Meanwhile, the number of county residents infected by the disease is now sitting at 106.
As of yesterday, 15 people have been hospitalized after being diagnosed with coronavirus.
Over 470 more are also in mandatory quarantine.
One of the candidates for the vacant 27th Congressional District seat is calling for the upcoming special election to be rescheduled.
Democrat Nate McMurray tells The Buffalo News that due to the coronavirus, the health and safety of voters and poll workers can't be put at risk.
McMurray is challenging Republican Chris Jacobs in the special election which is set for April 28th.
The winner will fill the seat left open by former Republican Congressman Chris Collins who resigned after pleading guilty to federal insider trading charges.
---
Reader's opinions
---