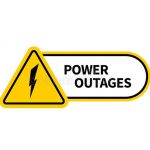 Power outages continue across the region this morning after a storm front rolled through Sunday. The number of outages in Genesee County early today had dropped to under 20 and involved primarily National Grid customers. There were under 100 remaining without power in Orleans and the number dropped to under 150 in Wyoming county. Fire crews were busy for hours dealing with downed trees and power lines. The National Weather Service clocked a peak wind gust of 58 mph at 5:20 p.m. in Batavia. Warsaw clocked a gust of 59 mph. The Buffalo airport recorded a peak gust of 69 mph while a wind gust of 56 mph was reported at Rochester Airport.
The annual closure of the stretch of Lake Ontario State Parkway, west of Route 98 in the town of Carlton in Orleans County takes effect today. The New York State Department of Transportation says the closure will last until next spring. A detour will be in place for motorists to exit at Route 98 and take Route 18 to continue west.
New technology was installed at the Greater Rochester International Airport just in time for the holidays. The TSA checkpoint at the airport is using new technology that confirms the validity of a traveler's identification and confirms their flight information in near real time. Travelers still need to check-in with their airline in advance and bring their boarding pass to their gate agent to show the airline representative before boarding their flight.
Congressman Tom Reed has condemned Governor Cuomo's position on a COVID vaccine. In a statement, Reed said he was appalled by Cuomo's continued insistence on undermining a COVID-19 vaccine, the integrity of the FDA, and the hundreds of incredible scientists who have dedicated their lives to serving the American people. Reed's district runs from Jamestown to Ithaca.
Heartbreaking…that's the only way to describe the last two seconds of the Bills-Cardinals game Sunday. Arizona won 32-30 after an incredible Hail Mary pass was caught in the end zone. The Bills are now 7-3 on the season.
The Town of Batavia has extended its State of Emergency for another 30 days. This State of Emergency has been declared due to the existing and continuing declared States of Emergency at the Federal, State, County, and City of Batavia, related to the COVID-19 virus.
The Great American Smokeout is Thursday. The U.S. Department of Veterans Affairs is encouraging Veterans to take the first step to improve their physical and mental health by combining cessation counseling with other VA clinical resources and support. Research shows behavioral counseling can significantly improve one's chances of quitting and combining counseling and medication works better than medication or counseling alone. "VA is here to help Veterans quit smoking," says Michael Swartz, Executive Director. There are many tools and support VA offers to Veterans trying to quit. He added…take the first step to improve your health.
---
Reader's opinions
---