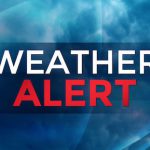 A Wind Advisory remains in effect until 4 p.m. for Genesee, Orleans and Wyoming counties. Winds could gust up to 50 mph. Gusty winds could blow around unsecured objects. Tree limbs could be blown down and a few power outages may result. Travel may be difficult in high profile vehicles.
A 32-year-old man now faces felony charges following a personal injury vehicle crash October 25th on Main Road in Pembroke. Sheriff's deputies charged 32-year-old Brent Graham of Akron with felony aggravated driving while intoxicated and felony DWI. Deputies said those charges were felony counts because he has two previous convictions within the past ten years. He was additionally charged with reckless driving, operating a vehicle without an ignition interlock device, felony first-degree aggravated unlicensed operation and other lesser counts. He'll answer the charges in Town of Pembroke court on January 21st.
A vehicle crash on Perry Road in the Town of Pavilion has resulted in charges for a Geneseo woman. Sheriff's deputies said they arrested 22-year-old Alyssa Jade Garrett. She was charged with driving while intoxicated, having a blood alcohol content of more than .08% and moving from a lane unsafely. She was released on appearance tickets and is due in Pavilion Town Court on Jan. 5.
The state legislature is poised to expand protections for New Yorkers at risk of being kicked out of their homes due to financial hardship caused by the coronavirus pandemic. The legislature will meet in a rare December session today to take up the COVID-19 Emergency Eviction and Foreclosure Prevention Act.
Genesee County deputies responded to a vehicle parked in the roadway with a man slumped over the wheel on Old Creek Road in Alexander. Deputies ended up arresting 24-year-old Aaron Hatt of Alexander. He was charged with driving while impaired by a combination of alcohol and drugs and other counts. He was directed to Alexander court on February 9th.
Additional court action is pending for a Batavia man stemming from a stabbing incident. City police arrested 59-year-old Brodes Gibson of Bank Street. He was arrested on an unrelated incident by Medina police and later turned over to Batavia PD, where he was charged in a warrant with felony second-degree assault and criminal possession of a weapon. The charges stem from a domestic dispute in which Gibson allegedly stabbed another person. He was arraigned and initially remanded to jail.
Batavia police arrested 34-year-old Christopher Sewar of Liberty Street. He was charged with second-degree burglary and criminal contempt. According to police, he allegedly violated a court order and burglarized a house. He was remanded to Genesee County Jail and is due back in court January 25th.
---