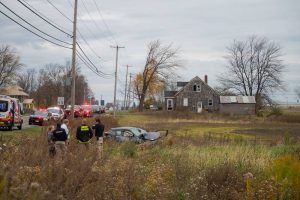 A 39-year-old woman was injured Friday morning after her 2018 Toyota left the roadway on Oak Orchard Road near Federal Drive and struck a utility pole, causing the vehicle to overturn.  The woman was the sole occupant of the vehicle. She was ejected from the vehicle. The State Police have not released her name or where she is from.  The woman was flown to Strong Memorial Hospital by Mercy Flight for treatment of serious injuries.  NYSP says this is an ongoing investigation.
A Carlton woman has been found guilty of neglecting 10 horses on a property in Orleans County.  69 year old Elaine Bute pleaded to a one-year conditional discharge. She cannot own horses during that time and was ordered to pay restitution to Lollypop Farm, which cared for the horses after they were seized.  Lollypop Farm Humane Law Enforcement officers responded to the property July 26, 2022 after Orleans County Animal Control received reports of horses being kept in poor conditions.  Investigators found a thin Palomino with overgrown hooves standing on at least 2 feet of packed manure.  After obtaining a warrant to search the property, investigators returned and found a total of 10 horses living on the property. Multiple horses were found covered in their own feces in stalls packed down with manure and old straw. Several horses had overgrown hooves that made it difficult for them to bear weight. Investigators also found insufficient water in the areas used to house the horses.  Lollypop Farm said three of the horses were euthanized, including two as a result of their neglect. One horse is in foster care, while the rest have been adopted.
New York's Cannabis Control Board did not vote on adult-use marijuana licenses at its monthly meeting on Friday.  The board was expected to vote but it was removed from the meeting agenda at the last minute, with the executive director saying the item was not ready to go before the board.  During the public safety portion of the meeting, several individuals spoke about their frustrations with communication with the Office of Cannabis Management.  They applied for and were granted marijuana retail licenses months ago but still have not been allowed to open.
The Buffalo Sabres lost to the Winnipeg Jets 3 to 2 Friday night at the Canada Life Centre in Winnipeg.  Alex Tuch and JJ Peterka scored for Buffalo but couldn't make up the last point as the game came to a close.  The Jet's goalie stopped 25 shots to keep the score 1 up for them.  The Sabres will stay on the road, next up they play the Blackhawks in Chicago on Sunday at 7pm.
---