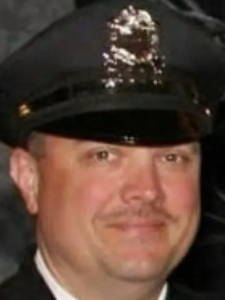 The man who killed officer Anthony Mazurkiewicz and wounded Officer Sino Seng on Thursday night has been identified as 21 year old Kelvin Vickers of Boston Massachusetts.  Around 9:15 pm on Thursday Vickers approached the police car the officers were in from behind and fired 17 shots into the car.  Both officers were struck and a bullet also entered a home nearby and hit a 15 year old girl.  Within an hour, police say they found Vickers – along with a loaded gun – hiding inside a crawl space in a vacant house.  According to RPD, Vickers had "juvenile contacts" for assault and battery on an officer at the age of 12, burglaries, strangulation with a deadly weapon, assault with a deadly weapon, and two possession of firearms offenses. As an adult, he's been convicted of possession of an unlicensed firearm.  Vickers has been charged with second-degree murder, attempted second-degree murder, second-degree assault, and two counts of criminal possession of a weapon.
A man from Lynnwood, Washington was arrested after calling the TOPs Friendly Markets store on Elmwood in Buffalo and threatening to go on a shooting spree against black patrons and start a "race war."  37 year old Joey David George called the store on July 19th and 20th.  Police were able to trace the number back to his Washington State home and apprehending him.  He was also accused of making similar threats to a restaurant in San Bruno, California.  He was charged with making interstate threats. 
Rochester Lawmakers are calling on the State legislature to allow judges to retain people who have a history of violence.  City Councilman Michael Patterson says his constituents live in fear of leaving their homes.  He wants the state to pass legislation to give judges discretion to detain people without bail if they have a criminal record.  Opponents to the proposal say that it may have a disproportionate effect on black people and it may set a dangerous standard.  
St Jerome's Urgent Care Center will be closing according to a press release from Rochester Regional Health Friday.  The closing is effective August 1st.  Rochester Regional Health will be opening a new urgent care at the Batavia Medical Campus on Oak Orchard Rd in the spring of next year.  While the new four-story, 115,000-square-foot state-of-the-art building is under construction, RRH continues to offer urgent care services through primary care offices, telemedicine and at United Memorial Medical Center.
A former pastor, marine reservist, and residential coordinator has been named the new Youth Bureau leader.  Daniel Calkins, a 2007 Batavia High School Graduate who spent 6 years in the US Marine Reserves and then got his bachelors degree in Community and Human Services from Empire State college and his Masters of Divinity from North Eastern Seminary at Roberts Wesleyan College.  He then pastored the Next Generation program at Northgate church for 4 years and most recently worked as residential coordinator for the Genesee County ARC now called ARC GLOW.  Calkins says he is excited to share his many ideas and make sure people's lives in the community are meaningful.
---