Afternoon News Brief
Written by Doug Thompson on January 17, 2023
50-year-old Louis Coleman of Batavia has been sentenced to two years in state prison and 3 years of post-release supervision. He pleaded guilty to criminal possession of a controlled substance with intent to sell. Coleman sold methamphetamine to an undercover Wyoming County Drug Task Force agent. He has an extensive criminal history that includes drug and burglary-related arrests and still has a felony drug case pending in Livingston County. This is Coleman's fourth state prison term.
44-year-old Paul Mioducki of Bennington has been sentenced to two, 2 to 6 year terms in jail and five years' probation. He had been given a break the first time he was caught and arrested for stealing more than $16,000 from his parents. However, during this period of probation during which he was to pay his parents back, Mioducki was caught stealing $41,000 more from his parents through the use of a debit card and forged checks. During his probation, he had also been ordered to report using drugs and to attend substance abuse treatment. Mioducki did neither; and was subsequently sentenced.
A State Police investigation into a fatal motorcycle accident, following a high-speed pursuit by a sheriff's deputy in Batavia and Stafford, has cleared the deputy of any fault in the incident. This, from a report obtained by our news partner, The Batavian. On July 6th, 26-year-old Nicholas Keiffer of West Center Street, Medina, lost control of his 2001 Kawasaki Ninja on Route 63 as he entered a curve in the roadway just north of Fargo Road after fleeing an attempted traffic stop by Deputy Zachary Hoy. Keiffer's speed reached 150 miles per hour; once Deputy Hoy lost sight of Keiffer, he turned off his emergency lights and reduced his speed. He later found Keiffer, who was pronounced dead at the scene. Here is a direct link to the full story:
https://www.thebatavian.com/howard-b-owens/deputy-cleared-in-fatal-motorcycle-crash-in-stafford-after-chase-in-july/626325
Rochester police have released the name of the man who was shot and killed at Burger King over the weekend. On Saturday night, 19-year-old Sideic Robinson was leaving his job at the fast food restaurant on Lyell Avenue when he was hit by gunfire and later pronounced dead at a nearby hospital. Police are still trying to determine a motive for the crime. They're asking anyone with information to come forward immediately.
A man who was already behind bars at the Erie County Correctional Facility in Alden is in more legal trouble after being accused of damaging a deputy's body camera. Deputies were dealing with an altercation at the facility when the body camera fell to the ground. That is when 28-year-old Daiquan Gray kicked the device and he's been charged with criminal mischief. Gray was arrested for robbery last year and will remain at the facility pending his arraignment.
Flu season is in full swing, and some new data shows one Finger Lakes region county is being hit harder by the virus than others. According to the updated New York State Flu Tracker, 333 Monroe County residents contracted the illness between December 31st and January 7th. Ontario County had the second highest number of new cases in that same time period with 77. Since flu season started in October, 293,541 people in the Empire State have tested positive for the virus.
The Buffalo Sabres have come up short in their bid to win a second straight game after being beaten at home. Alex Tuch scored the lone goal for Buffalo as his team was defeated by the Florida Panthers 4-1 at KeyBank Center yesterday. Sabres goaltender Ukko-Pekka Luukkonen faced 33 shots in the game and stopped 30 of them. Buffalo's next game is tonight when they visit the Chicago Blackhawks; the puck drops at 8:30.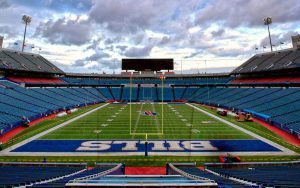 The Buffalo Bills will host the Cincinnati Bengals at Highmark Stadium Sunday at 3 p.m. in the Divisional Round of the NFL Playoffs and the ticket prices are rather high. As of Monday afternoon on the VIPTIX website, a single ticket in the upper deck of Highmark Stadium would cost you around $245 dollars. Prices were about the same on Stubhub and Ticketmaster. The best time to buy tickets is historically in the middle of the week.
As has been the case for the last several weeks, no one has won the Powerball jackpot, meaning there is going to be even more money up for grabs in the next drawing. The top prize for the popular lottery game last night was $416,000,000, but it's now grown to $439,000. There has not been a Powerball winner since November. The next drawing is set for tomorrow night. Please play responsibly.
---