The search for a missing Batavia man has come to a tragic end after his body was discovered in the Tonawanda Creek. Police say 29-year-old Lewis Hyde was last seen alive on Friday on West Main Street. On Sunday, a jacket was spotted in the area of the creek between the South Lyon Street and River Street bridges. Police then asked the City Fire's water rescue team to assist with the search. Hyde's remains were found yesterday and removed from the water. Police are continuing their investigation while waiting for autopsy results but say they don't believe his death is suspicious.
The number of New Yorkers who have tested positive for COVID-19 has seen its smallest increase since last July 18th. Governor Hochul's office announced just 902 new cases yesterday and 10 deaths. The statewide COVID-19 positivity rate is sitting at one-point four-percent. In Western New York, the seven-day average infection rate is one-point-eight percent. Last week in the GLOW region, there were only 25 new cases of COVID-19 reported.
The band Foreigner will return to the 2022 Great New York State Fair to perform on August 28. And Foreigner and the Fair are conducting a search for a junior high, high school or college chorus to perform a 10-minute a cappella set about 30 minutes before Foreigner's concert. Prior to the COVID-19 outbreak, the band would invite a chorus onstage during the show to help sing the hit "I Want To Know What Love Is." They've kept the tradition going since then by having the chorus perform before the show. Choruses must bring no more than 25 members and can determine their own program of 10 minutes. The Fair will provide up to four admission passes per chorus member, staff member and chaperone along with enough parking passes for all vehicles in the Fair's lots. Choruses interested in performing must apply by April 30. You may do so by uploading audio or video of a recent performance and a group photo. https://nysfair.ny.gov/
Investigators continued their work on Monday, in an to attempt to piece together the events that led up the double murder at the Blumer Dairy Farm on Alexander Road, late Friday night. 23-year-old Prince N.K. Wilson, of Albion and 18-year-old Raul Cruz, of Warsaw and formerly of Albion, are both charged with second-degree murder and committed to Genesee County Jail without bail. The men are accused of murdering two Hispanic men who lived at an employee bunkhouse on the farm. Both of the charged men are familiar to law enforcement, particularly in Albion. Because of Cruz's age he does not have a public criminal record, but was the subject of a search when he was 14. He and a 12-year-old girl were reported missing and were found safe a day later. Wilson, however, has a criminal history that includes arrests for burglaries, resisting arrest and failure to appear in court in 2017 as well as burglary charges from 2019 that landed him in state prison. Genesee County Sheriff's continued their investigation today. (Pictured left to right – Wilson, Cruz)
The City Budget has passed unanimously with a general fund of 17.78 Million dollars. City Manager Rachel Tabelski is pleased with achieving a balanced budget and hopes that residents will see a drop in taxes; although with property assessments on the increase, it's possible some homeowners will not. Other highlights of the budget include more money being allocated for the police department's Emergency Response Team and a fire truck to replace Engine 12, which is now about 20 years old. The Council also approved a 1.5 percent increase in water rates, meter fees and capital improvement fees for the 2022-23 fiscal year.
Starting later this week, Spectrum customers are going to be paying a bit more money each month for their television service. The company says beginning Friday, the broadcast TV fee will be going up by more than $3 to $21 per month. Spectrum's monthly equipment fee is also rising by $1.00 to $9.99 per month. Spectrum says that it has no choice but to raise rates because of the higher fees that are being charged by network-affiliated stations to carry their content.
A small earthquake rattled parts of Wyoming County just after 11am this morning, about 3 miles south west of Warsaw. The quake occurred at a depth of about 3.1 miles, which according to the National Weather Service is relatively shallow; while shallow quakes tend to be more damaging than deeper earthquakes; this one only had a magnitude of 2.6 on the Richter scale. It's considered a small quake, incapable of causing damage. Still, you could have felt it if you were close to the epicenter.
Buffalo has had over 92 inches of snow this season, so far, and although it was a low snow season for the rest of upstate NY, it's an above average snowfall amount here. As a result, Buffalo is winning a contest that not everyone is interested in winning…The Golden Snowball is awarded to the city with the most snow over a winter season. It's not surprising, especially this year. Buffalo is ahead of Anchorage Alaska by over 6 inches and Rochester is back in third by almost 10 inches. Still plenty of time for cities to rally for a comeback…the contest finishes up at the end of April.
The Genesee County STOP-DWI Coordinator announced today that the Genesee County Sheriff's Office, the City of Batavia Police Department and the Village of LeRoy Police Department will once again be participating in a coordinated effort with the STOP-DWI program to bring awareness to the dangers of impaired driving. The increased statewide efforts start tomorrow and will continue thru Sunday, March 30. St. Patrick's Day weekend is a notoriously dangerous period for impaired driving due to the number of celebrations and drivers on the road. New York State Police, County Sheriffs, and municipal law enforcement agencies will be out in force during this across-the-board effort to reduce the number of alcohol-related injuries and deaths.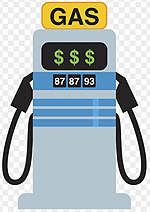 It's not much, but at least it's in the right direction…according to Triple A, the average cost for a gallon of gas in Batavia as of this morning, is $4.37…that's down 1 cent from yesterday…
---