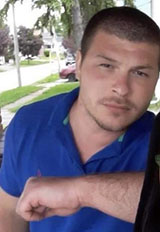 The search for 29 year old Lewis Hyde has been called off after a body was discovered in the Tonawanda Creek between the S Lyon Street and River Street Bridges just after noon on Monday.  The Batavia police began the search after a jacket was found along the creek bank.  After Search and rescue teams brought the body up it was confirmed to be Hyde.  An investigation is ongoing pending the results of an autopsy, but there do not appear to be any signs of foul play.  Hyde was reported missing on the 11th.
The City Budget has passed unanimously with a general fund of 17.78 Million dollars.  City Manager Rachel Tabelski is pleased with achieving a balanced budget and hopes that Batavians will see a drop in taxes.  When asked if she could identify one highlight of the budget, she came up with the fact that more money was put into the police department's Emergency Response Team.
Buffalo is edging out other cities in America for the Golden Snowball award for the city with the most snow over a winter season.  Not something that surprises most Western New Yorkers.  Buffalo is ahead of Anchorage Alaska by over 6 inches and Rochester which is coming in third by almost 10 inches.  Buffalo had over 92 inches of snow this season and although it was a low snow season for the rest of upstate NY the Queen City had an above average snowfall.  The contest finishes up at the end of April.  
The Buffalo Bills have signed some new players for their next season.  Tennessee Offensive Lineman Rodger Saffold has signed a 1 year contract, Tim Settle and DaQuan Jones both signed as Defensive Tackles.  Settle played for the Washington Commanders and Jones played for the Panthers. 
---