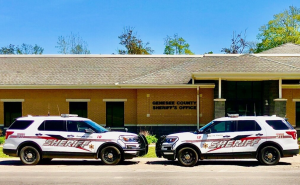 30-year-old Bradley Jordan of Bethany has been arrested. He's charged with petit larceny following investigation into an incident on Lewiston Road. Jordan was issued an appearance ticket for a later date at Batavia Town Court.
Governor Hochul has ordered flags at government buildings across the Empire State to be lowered to half-staff today in observance of the 22nd anniversary of the September 11th terror attacks. Thousands of people were killed when planes crashed into the World Trade Center, Pentagon and s field in Pennsylvania. Landmarks including Niagara Falls will also be lit in blue tonight. The governor says New Yorkers will never forget those who died.
The Labor Day weekend has passed and gas prices have remained more or less the same as they were prior to the heavy travel holiday. According to Triple A today, the national average cost for a gallon of regular fuel is $3.83. The state average – always just a little bit higher – is at $3.89. In Batavia, we're paying the same as the national average, $3.83; that's down a penny from a month ago and 23 cents less than what we were paying a year ago today.
Governor Hochul has signed a new law into effect designating Lunar New Year as a no-school holiday for New York public schools. The Lunar New Year, otherwise known as Chinese New Year, is on February 10th in 2024. Supporters of the bill said it was introduced so Asian students would not have to choose between gathering and celebrating with their families and pursuing their education.
As reported by Tom Tharp this morning: Firefighters from across the greater Rochester area participated in the National Fallen Firefighters Foundation's annual 9/11 memorial Stair Climb at Innovative Field. Yesterday they climbed the equivalent of 110 stories, which is the same number first responders climbed on September 11, 2001. This is the seventh year organizers have hosted the Stair Climb. The event raises money for the Foundation's programs that support families. More than $22,000 has been raised so far as the organization continues to accept donations.
State Police have released the results of their Labor Day weekend crackdown on impaired drivers. There were over 8700 tickets issued statewide from September 1st through the 4th. In this region five people were arrested for DWI while other individuals were ticketed for violations such as speeding and distracted driving. Last year, over 9700 tickets were handed out.
The Buffalo Police Department is assessing its policies for football games after a brawl among spectators resulted in multiple arrests. The fight happened Friday night at All High Stadium during a contest between McKinley High School and Bennett High School. Officials made the decision to end the game at halftime. Four suspects have been charged and a fifth arrest is pending.
Governor Hochul is asking that customers of Charter Spectrum get refunds during the cable company's dispute with Disney. She says New York consumers are missing some of the biggest sporting events of the year. More than 1.5 million cable viewers in New York State lost access to ESPN and other Disney-owned channels on August 31st, when Disney and Charter were unable to renew a distribution deal. Hochul has directed the Department of Public Service to ensure customers get the appropriate refunds.  A Press Release came into WBTA this afternoon around 12:30. The Governor reports: "Last week, I made it clear that if you pay for your cable bill, you deserve to get the services you pay for. Just in time for Monday night football and the Bills and Jets starting their seasons tonight, I'm pleased that Disney and Charter have resolved their corporate dispute and resumed service for more than 1.5 million New York customers that lost access to ESPN and Disney-owned channels. My Administration will ensure that New Yorkers receive a refund for the days they were without service, holding true to our commitment that we will always prioritize consumer protection."
The Buffalo Bills will be in the Garden State tonight as they look to start their season with a win over a division rival. The Bills are visiting Aaron Rodgers and the New York Jets at MetLife Stadium in East Rutherford, New Jersey. Buffalo is coming off a season where they once again made the playoffs but were eliminated in round two by the Cincinnati Bengals. Kickoff this evening is set for 8:15.
ELSEWHERE…
A long-missing key piece of Star Wars history will hit the auction block next month. An original 20-inch X-wing star fighter model was recently found after missing for decades. The model was used for filming key scenes in the original 1977 Star Wars film, including the climatic battle at the Death Star. It will be part of a Heritage Auctions event featuring items from the collection of an Oscar nominated model maker that will take place October 14th through the 15th in Dallas. Bidding for the X-wing model will start at $400,000.
The Powerball jackpot continues to climb with no lucky winner in Saturday night's big drawing. That means the top prize in the next drawing coming up tonight will be at least $522 million. The cash value on that works out to just over $252 million. Please play responsibly.
The man who spent nearly two decades as the nation's top infectious disease expert says a repeat of 2020 is unlikely, despite a recent increase in COVID cases. Speaking on ABC's This Week, former National Institute of Allergy and Infectious Diseases Director Dr. Anthony Fauci also said he doesn't expect a federal mandate to wear masks again. MEANWHILE, a new round of COVID-19 boosters could be available in the U.S this week. The CDC's independent panel of advisors is set to meet on Tuesday to recommend who will be eligible for the shots. Meanwhile, the FDA is also likely to approve the shots, which aim to protect against severe disease and death from currently circulating variants. The expected rollout comes as the nation has seen a recent uptick in COVID infections.
Pennsylvania State Police believe an escaped criminal is still within the state and within the county. Officials say the search for Danelo Cavalcante has shifted to the northern part of Chester County after he managed to slip through a police perimeter. Cavalcante is a convicted murderer who escaped from Chester County Prison on August 31st.
Coming up in the business week ahead, Wednesday's reports will bring the latest consumer price index. The CPI numbers will help guide whether the Federal Reserve moves to raise interest rates again in November. Weekly jobless claims are due on Thursday, with a slight uptick in the forecast. The producer price index and retail sales data will also be out the same day. Consumer sentiment caps the week on Friday.
Today is Monday, September 11th, the 254th day of the year.
September 11 in history…
…In 1789, President George Washington appointed Alexander Hamilton the first Secretary of the Treasury.
…In 1941, construction on the Pentagon began. It was completed and dedicated on January 15, 1943.
…In 1952, Dr. Charles Hufnagel became the first to replace a diseased aorta with an artificial one made of plastic.
…In 1955, 19-year-old Lee Ann Meriwether won the first televised Miss America pageant. The event was broadcast on ABC Television.
…In 1967, "The Carol Burnett Show" aired for the first time on CBS Television. The popular program stayed on the air for eleven years.
…In 1987, actor Lorne Greene died at the age of 72. He is best known for his role as Ben Cartwright on the television show "Bonanza."
…In 1988, actor John Sylvester White died at the age of 68. He is best remembered for playing Vice Principal Michael Woodman on TV's "Welcome Back Kotter."
…In 2001, nearly 3,000 people were killed in the worst terror attack on U.S. soil. Nineteen men hijacked four planes in a coordinated attack. Two planes were slammed into the World Trade Center, causing the massive Twin Towers to collapse and change the New York City skyline forever. Another plane crashed into the Pentagon, while the fourth went down in Pennsylvania after the passengers on board revolted against their hijackers. The attack was traced to the terrorist group al-Qaeda, which led to a war in Afghanistan and eventually the death of al-Qaeda leader Osama bin Laden in Pakistan in 2011.
…In 2003, Emmy winning sitcom star John Ritter died in Los Angeles after suffering an aortic aneurysm. Ritter was best known for his portrayal of the bumbling Jack Tripper in the 1970s sitcom "Three's Company." John Ritter was 54.
---