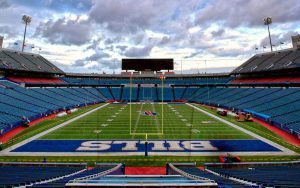 New York Governor Kathy Hochul announced Tuesday the state has received the full $564 million from the Seneca Nation to resolve the nation's outstanding gaming compact dispute and more than $418 million will go towards the new Buffalo Bills stadium.  According to Hochul, the remaining funds "will go directly to the counties and cities of Western New York and be reinvested to support the local economy and communities."  The price tag of the stadium is expected to be $1.4 billion, with the state on the hook to contribute $600 million toward it. This directive from Hochul would mean a significant portion of the state's contribution would be covered by the funds received from the Seneca Nation.
There is a winter weather advisory in effect in Wyoming and Livingston counties till 1pm today.  The National Weather service is predicting a wintery mix of ice and snow with ice accumulations up to a few hundredths of an inch which is enough to make roads slippery and cause spinouts and fishtails.  The snow could also limit visibility.  They are urging drivers to slow down and take corners and turns slowly to avoid losing traction.
Congressman Chris Jacobs along with NYS Republican Chairman Nick Langworthy held a press conference at a gas station Tuesday morning to call on President Biden to "get out of the way of the American Energy Industry and allow affordable, domestically produced energy to flow to the American People."  Jacobs blamed rising gas and heating costs on the president's canceling of the Keystone XL pipeline and destructive policies against US Oil production.  They also held a voter registration drive at the event.
Darien Lake Amusement Park, the largest employer in Genesee County, at least during the spring, summer and fall months, will be hosting a hiring fair April 9th.  They are looking to fill 200 lifeguard positions and over 1500 positions total.  Darien Lake is rebranding their water park as Hurricane Harbor and adding a new water ride this season.  Most positions are available to persons 16 years of age and older; however, the park does have a select number of positions available for 14- and 15-year-olds.  There are several ways to apply.  For more details check out wbtai.com.
HOW to Apply:
Simply text the word "JOBS" to 585-207-8400; or
Complete a job application at www.sixflags.com/darienlake/jobs; or
Visit the Six Flags Darien Lake Human resources office in person Monday to Friday from 10 am to 4 pm
Applicants with employment-related questions can call 585-599-5108  
For more information on Six Flags Darien Lake and Hurricane Harbor, visit www.sixflags.com/darienlake
Go Art, the Batavia Society of Artists and the Genesee Wind Ensemble are getting together on April 12th from 7-9 pm to help people with intuitive painting.  The idea is that as a person listens to the wind ensemble play throughout the building they will create art unencumbered by normal constraints of "getting it perfect."  No overthinking will be allowed at this freestyle painting event.  All are welcome, there is a charge of 5 dollars for non members.
---