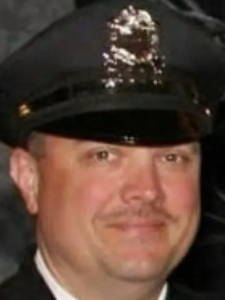 Hundreds of police from the Rochester Police Department and beyond attended the memorial service for slain officer Anthony Mazurkiewicz on Monday at the Blue Cross Arena.  Mazukiewicz was shot from behind while he sat in his patrol car.  His partner, Officer Sino Seng, was also hit in the leg and is recovering.  The crowd included members of RPD's Tactical Unit, where Officer Mazurkiewicz was remembered as always a professional, and a leader by example.  Officer Paul Romano, Mazurkiewicz's usual partner, says he spoke non-stop of the love he had for his wife, four children, and three grandchildren.  All 4 of Officer Tony's children spoke at the memorial.  
After 4 years of investigations a Vine street man has been charged with sexually abusing a child.  62 year old Ronald Washburn was charged with first degree sexual abuse of a 6 year old he was babysitting in April of 2018.  At the time Washburn was a level 1 sex offender.  Washburn is being held in Genesee County Jail with a bail of 5000 dollars.
Gas prices continue to come down a bit at a time this week.  This week we experienced a drop of 15 cents down to 4.21 as the national average.  Last year it was 3.17.  New York State's average is 4.52 which is only 6 cents down from last week.  In Batavia a gallon of regular will run you 4.49 on average.  According to the latest data from the Energy Information Administration, gas demand increased in recent weeks while inventory levels dropped, which could pressure pump prices and slow price decreases if the trend holds. Yet for now, prices continue to drop.
The GLOW Corp. Cup route has been announced for the 5k run on Thursday.  More than 750 runners are starting at Park Ave at 6pm, heading down State Street, turning left onto Washington, left on Bank St, then right on Vine, another right on East and then down to Washington and back to Ellicott Ave. Drivers are asked not to park on the 5k route.  Motorists and residents should know that Park Avenue will close traffic between Lincoln Avenue and State Street from 4:30 to 6:15 pm. Automobiles are encouraged to be parked in driveways along the entire course so that runners and walkers can pass unobstructed.
Batavia now has a place for nutritional beverages at Batavia Total Nutrition on West Main Street.  Owned and operated by the Cordes family, the shake shop opened on Monday in the Valu Plaza and the menu includes protein packed power shakes, energy drinks, and meal replacement drinks.  With over 20 fast food options in Batavia this is the first healthy business in town devoted fully to beverages.  There will be some foods on offer, they are thinking about waffle Wednesdays. 
---