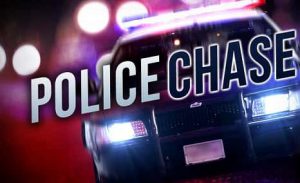 A man from Brooklyn was arrested after leading Wyoming County Sheriff's Deputies on a chase from Perry to Warsaw Saturday.  18 year old Donte Dennis was driving 63 mile per hour in a 40 zone when deputies attempted to pull him over in Perry Center.  He took off and deputies gave chase.  Dennis crashed his car at the top of East Hill in Warsaw and was taken into custody.  He was found to be driving under the influence of drugs.  Dennis is charged with driving while ability impaired by drugs, unlawful fleeing a police officer, reckless driving, speeding more than 55 miles per hour, speeding, failure to keep right, driving an unregistered vehicle, switched registration, driving without insurance, and passing in a no passing zone.
A Livingston County man is behind bars after being accused of murdering his two-month-old son. According to the District Attorney's Office, 26-year-old Zachary McCaa of Caledonia took the child's life by throwing him and violently shaking him at a residence on Iroquois Road back in June. McCaa was originally charged with assault but he is now charged with murder, child endangerment and manslaughter. He's set to be back in court again in November.
A man who ran for both mayor and to be on the city council in Syracuse was arrested at the Frederick Douglass Greater Rochester International Airport Tuesday morning for attempting to get through security with a loaded gun.  Security agents said they caught, Alfonso Davis, 56, with a concealed 9mm handgun loaded with 14 bullets at the TSA checkpoint.  The gun was concealed in a sling, inches from the man's hand, according to a TSA spokesperson.  Davis claimed he forgot he had his gun with him.  He was charged with third degree criminal possession of a weapon and criminal possession of a firearm in a sensitive location.
The weekend of October 8th and 9th is pheasant hunting weekend in Western New York.  The DEC has announced a special youth only hunting weekend for kids 12-15 to hunt pheasant with a licensed adult hunter.  In Niagara county, three state parks will be open for the hunt, Joseph Davis, Golden Hill, and Wilson-Tuscarora will have a permit lottery for hunters to go after their stocked pheasants. Two hunts will take place each day – one from sunrise until 12:30 p.m. and the other from 12:30 p.m. until sunset.  Youth hunters must be accompanied by a licensed adult hunter during the pheasant hunt. The accompanying adult can not possess a firearm or take a pheasant during the weekend. Youth hunters will be allowed to take two birds per day.
Election day is just a little more than a month away and the New York State Board of Elections has announced a new way for people with vision impairments to get their ballots online.  By applying for an accessible ballot using the request portal on the state Board of Election site you will receive an email directing you on how to get your ballot.  Voters can now increase the font size on the ballot and change the color contrast and use a screen reader to help make ballot selections.  After the ballot is completed, the voter can print and return it using a return envelope that will be sent to them.
Batavia First United Methodist Church, on Lewiston Rd., will be holding a Rummage & Estate Sale on Saturday, Oct. 1 from 9 a.m. to 2 p.m.   There will be many estate and household items for sale, in addition to toys, furniture, holiday items, books & fresh produce.  A bag sale begins at 1 p.m.
On Saturday, Oct. 1, the Genesee County Fairgrounds will host one of the largest sports card and collectible shows in the region. There will be roughly 100 vendor tables full of sports cards, autographs, supplies, hobby boxes and non-sports-related collectibles.  The show/sale will be from 9 a.m. – 4 p.m. and have free admission.  There will also be a food truck available on site. 
The Buffalo Bills have placed Offensive Lineman Tommy Doyle on injured reserve after a torn ACL took him off the field against Miami on Sunday.  He will be replaced by Justin Murray who signed on for a 1 year contract earlier this week.  Murray is a 6-year veteran who spent the last three seasons with the Arizona Cardinals. He started his career as an undrafted free agent with the Denver Broncos in 2016.  The Bills also signed cornerback Xavier Rhodes who will be added to the practice squad.  Rhodes has played with the Colts for the last 2 years.  He started in nearly 30 games for Indianapolis. 
---