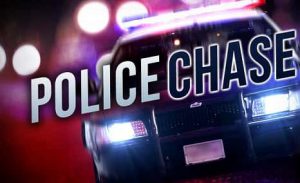 A vehicle chase that started in Leicester and moved quickly into Mt Morris ended in Painted Post with a suspect in custody.  22 year old TeQuan Robinson fled from a traffic stop in Wyoming county and then traveled south, striking at least one other vehicle in the chase and giving police the slip several times.  The vehicle was eventually stopped on I86 by state troopers after Livingston, Wyoming and Dansville police had coordinated trying to catch it.  Robinson was found to be wanted in New Jersey, Florida and Pennsylvania.  He was jailed in Livingston County and charged with Reckless endangerment in the first degree, unlawfully fleeing police in the 3rd degree, aggravated unlicensed operation in the 3rd degree and many others.  Robinson is being held without bail.
Another speed demon didn't get nearly as far, 21 year old Carlos Diaz of South Main Street in Batavia was charged with DWI, driving with a blood alcohol content of .08 or greater, and speeding.  How fast was he going when he got pulled over in Bergen?  Over 100 miles per hour in a 55 zone.  Diaz was released with traffic tickets.
Congressman Chris Jacobs announced that capitol building and white house tours are back on in the District of Columbia.  Jacobs said that any constituents are welcome to call his office and schedule a Capitol tour at least 2 weeks in advance White House tours should be scheduled 3 weeks in advance.  The Capitol Building tours begin on Monday and the White House tours start April 15th.   
Leroy Ambulance Service is raising money to buy a new Ambulance.  They need 100 thousand dollars.  So far they have just over 12 Thousand since December.  The Ambulance Service says they are planning fundraising events and will keep the community updated.
The Loan has been provisionally approved for the Bills new stadium.  NFL Finance and Stadium Committee has ok'd the 200 million dollars and it goes to a vote of the NFL Owners at their Monday meeting.  More money is expected from the state; the Buffalo Bills stadium deal is anticipated to be included in the Governor's 2023 budget, which is due April 1.  Up to 1 billion dollars is hoped for coming from NYS.  
The Buffalo Sabres couldn't extend their winning streak to 4 games as they fell to the Capitals 4 to 3 in a shootout Friday night at the Keybank Arena.  This is the 4th time in 4 games they went to overtime but this time it ended differently.  Jeff Skinner scored twice for the Sabres and Victor Olofsson put one in.  Next for the Sabres they go up against the New York Rangers on the road Sunday evening at 5pm.
---